To make a bed enticing enough to be sitting on it has to be covered with a beautiful bed sheet. A bed sheet is laid directly on the mattress and is used to cover it.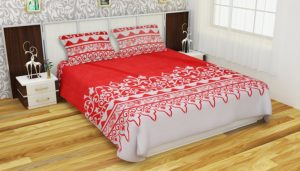 It is the sheet one lies on. A bed sheet also refers to the top sheet or covering sheet that is laid above the bottom sheet, and under which one sleeps.
We offer a vibrant range of designs in double bed sheet. We also offer total customization for the designs. Double bed sheets are available in 100% Cotton , Polyester and Poly-cot (mixture of polyester and cotton in the ratio 65:35) material, giving our clients a bed sheet they desire in their budget. The thread counts for the bed sheets available with us are 110, 120, 144, 180, 200, 300 and 400.
To get quotation, click here.